Why do we need too many virtual meetings?
The foundation of the remote workspace was built on virtual meetings—but over time, the workload increased and the number of meetings became one too many. Too many virtual meetings have become a paradox in the remote workspace—urgently necessary, yet evidently counter-productive. The following reasons call for additional meetings:
Lack of transparency within scrum teams.
Insufficient communication archive.
Lack of trackable and organized communication.
Communication gaps due to technical limitations.
Time-Zone differences.
Lack of proper identification of impediments.
---
How can optimizing & tracking daily Scrums reduce meetings?
Daily Scrum is the most actionable scrum technique, among all scrum ceremonies, that helps you implement the entire scrum methodology. It enquires your employees of the task progress and evaluates the aggregate progress towards the sprint goal. Thus, the successful achievement of your sprint goal is directly related to the successful implementation of the daily scrum.
Optimizing Daily Scrums
Optimizing daily scrums in remote working primarily means two things—optimizing the content and optimizing the method of implementation. Conducting daily scrums with questionnaire-based surveys can bypass the need to hold traditional online meetings. And, when designing the content, ensure that it covers all the relevant questions required to establish a sprint evaluation. If you leave loose ends in your surveys, it will naturally call for further meetings.
Tracking daily Scrums
Tracking your daily scrums will give two main benefits that will consequently reduce your total number of meetings. Firstly, if you maintain a record of your daily scrums, it will act as a library of information. A library that you can keep referring to while making sprint reviews and retrospectives. Secondly, the daily scrum record can act as a past reference on which you can improve your scrum techniques in the future.
---
Using Sup to avoid too many meetings
Sup is a standup/follow-up bot for Slack to help remote teams, across different time zones, conduct daily scrums productively. Sup primarily helps you automate your daily standups and follow-up sprint check-ins. It conducts standup and follow-up surveys, with questions of your choosing. The bot then stores all user responses, which can be later used to generate reports and timesheets.
Sup not only stands out for its features but, for its price as well. Sup is absolutely free for teams of all sizes!
Companies Using Sup: Stripe, Adobe, Simetrik, Conductor, Tarmac, CrouchJump.


The following implementations of Sup will specifically help you avoid too many meetings:
1. Time-saving with quick surveys
Don't waste time on daily meetings
If the goal is to avoid getting tied up in meetings, then it's pointless wasting hours, weekly, on daily scrums, and sprint check-in meetings. Sup not only helps you reduce the number of daily meetings but can help you eliminate regular meetings altogether. Instead of conducting daily scrum meetings, Sup can help you conduct daily standup/follow-up surveys. The surveys can address all the necessary issues yet take up a very short time.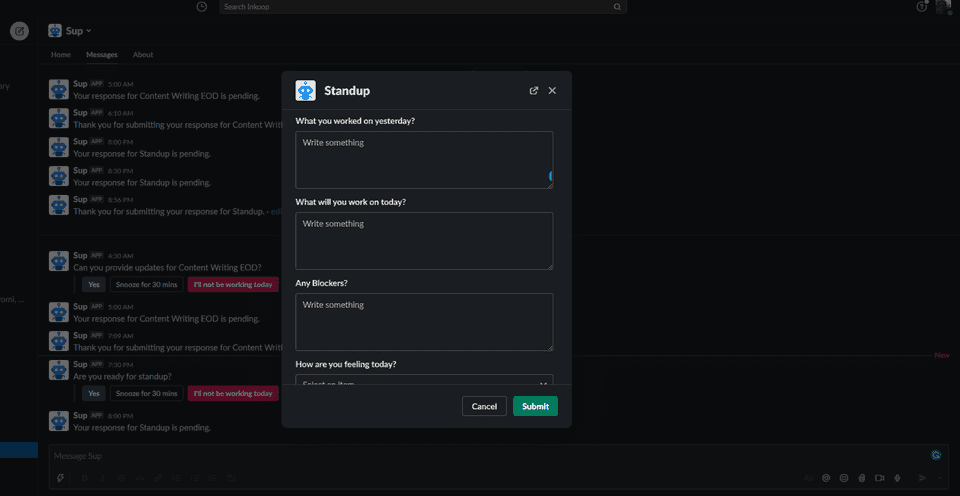 2. Asynchronicity for remote employees
You won't need multiple meetings for multiple employees
With remote working, addressing all the team members with a single meeting can be challenging in innumerous ways. Technical limitations, availability, and time-zone differences are just a few examples. The Sup standup/follow-ups are conducted asynchronously. Although the surveys will be scheduled at a specific time for all (or multiple) employees—they will have the flexibility to submit their responses at their convenient time.
3. Automated daily scrum
Free up meeting conducting time, and spend it on evaluation
As a product manager, product owner, or scrum master, save yourself the hassle of regularly conducting daily scrums. You can set up Sup to automatically conduct multiple surveys in a day, and throughout the week. Write up questions for your surveys only once, schedule a time and days of the week—and let Sup take care of the rest! As a product manager, product owner, or scrum master, you will be freed up from regularly planning and conducting daily scrums. You'll have more time to properly evaluate the responses and improve the sprint.
4. Customizable Standup/follow-ups
Design thorough and relevant surveys. No issue is ever out of reach.
A noteworthy feature of Sup, and a feature that directly helps you avoid too many meetings. Sup lets you add any number of questions to your Surveys. This ensures that you can address all the necessary issues in your daily standups. With unlimited questions per Standup/follow-up you can not only reduce the number of meetings but the number of surveys as well. You can also write up any questions you want—to be specific and relevant—and save them as templates (to be used in another follow-up.)  With Sup, a couple of daily surveys is all you need to tackle your daily scrums.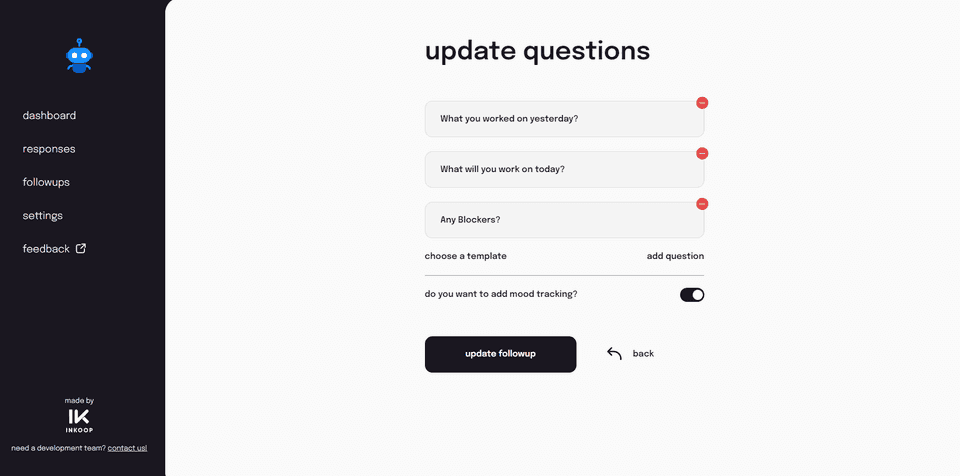 5. Improvise and adapt with response editing
Accommodate change in the workflow without needing additional meetings.
If you think that surveys won't be as flexible as regular meetings, then you are wrong. The feature to edit any previous response makes Sup surveys just as flexible as standup meetings. The whole point of having daily scrums is to have an agile development process; as soon as we detect an impediment, we should be able to swiftly adapt and improvise. When you add a standup/follow-up response on Sup, it's not an irreversible action. At any point, if you feel your previous responses are not rightly reflecting the current progress track you are on, simply edit and change the previous responses.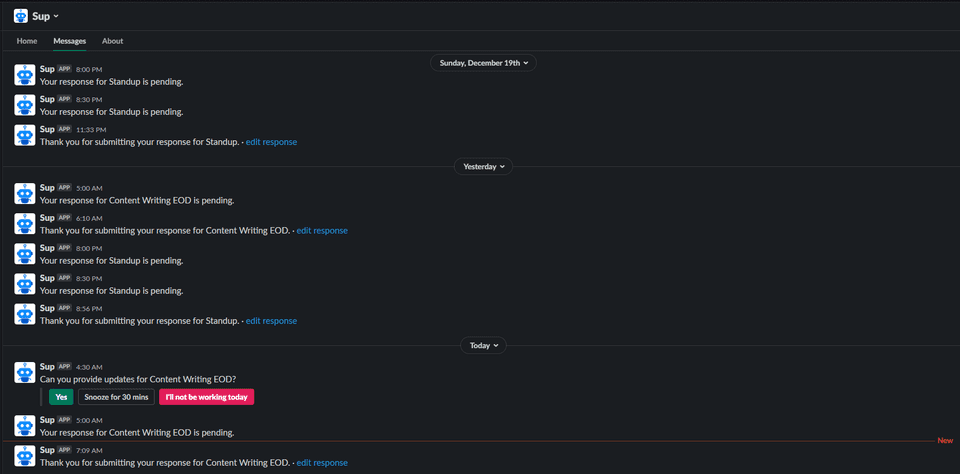 6. Setting follow-up reminders
You will never need to reschedule a standup
With the Sup reminder system, you need not bother notifying the employees who forgot to respond. Set up the bot's reminder system to add reminders to your standup/follow-up surveys; add the number of reminders and the interval between each reminder. Once past the scheduled time, the bot will continue to send reminders as per instructions. Sup will leave no employee behind. You schedule a follow-up only once, and then leave it on Sup to collect all the responses eventually.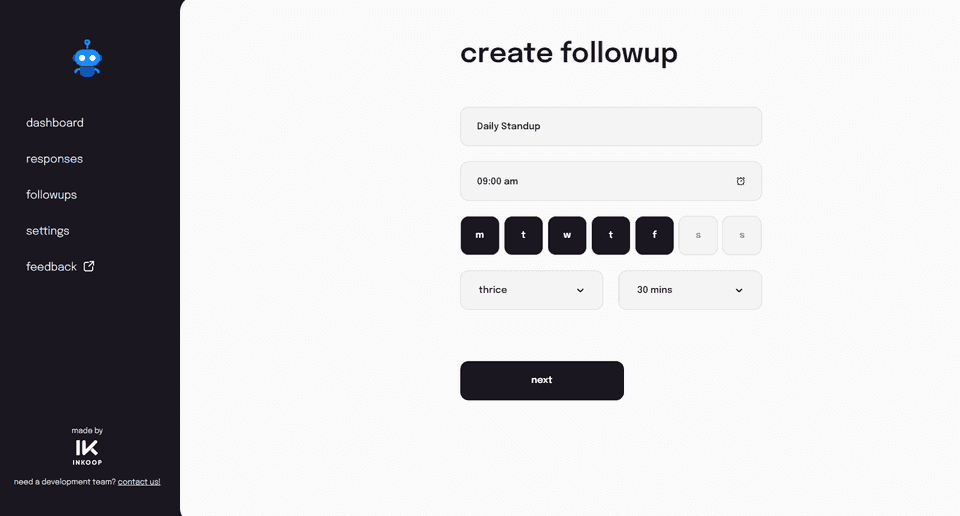 7. Transparency and minimum communication gap
Don't let communication gaps or lack of transparency lead to an extra meeting.
Never need an extra meeting because you didn't know what your teammates were up to, or you didn't hear a sentence correctly during a meeting. Sup bot will post all the standup/follow-up responses on Slack channels. You will always be aware of what your teammates are up to and head your workflow in a direction that compliments the team effort. All the responses are also stored by the bot, which can be accessed at any time for references. You can even pull out a response specific to a follow-up, date, and employee.
8. Seamless integration for better management
Sup can easily become the daily scrum wing of your Slack workspace.
It would be a shame if using Sup was more time-consuming than conducting multiple meetings. Thankfully it is not! Sup seamlessly integrates with Slack and proves conveniently user-friendly. The Sup provides a dedicated web interface, but you can also perform activities like adding a response, editing a previous response, and viewing previous responses and team responses, from Slack itself.
9. A neat interface for better organizing
An interface that communicates without confusion
Optimizing the daily scrum is a thought-intensive process, involving multiple techniques and steps. An interface that is haphazardly arranged will further distract your thought chain. Sup is designed into a streamlined web app interface that quickly grabs your attention and appropriately guides it through the right tools of scrum optimization. It has a Dashboard for an overview of all important surveys, and it makes clear categorization for follow-up settings and response viewing. The response viewing section also helps you generate reports.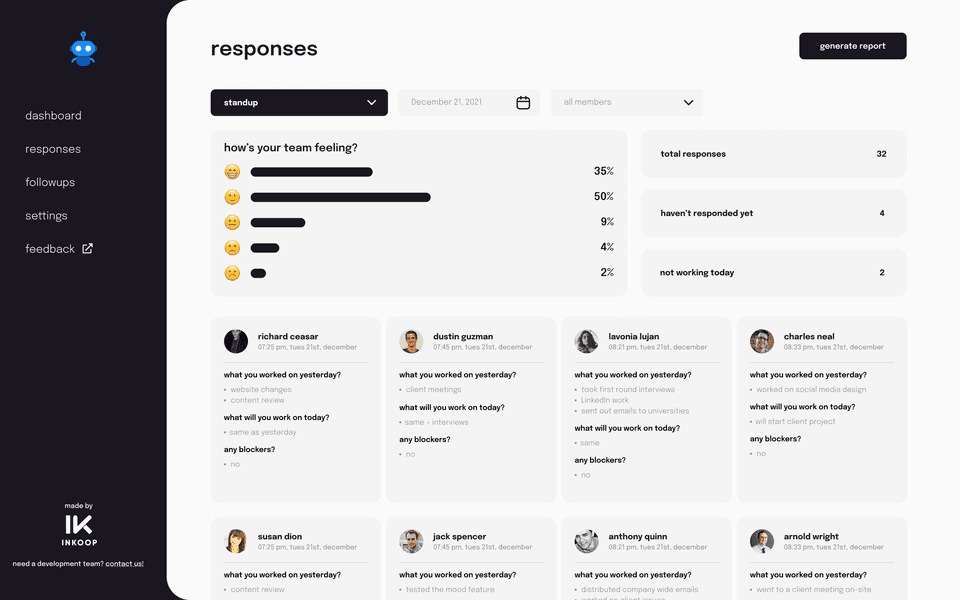 10. Generating reports and timesheets
Reports and timesheets help identify impediments and reduce unwanted meetings
The better you plan your sprints, the fewer the setbacks will be. Setbacks are only resolved by meetings, thus, fewer setbacks mean fewer meetings. Sup can log work time and store user responses. This stored information can be used to generate reports and timesheets. The reports are exported to CSV files. Use the reports and timesheets for effective sprint review and sprint retrospectives. Which will in turn yield insights to draw up an improved, setback-free, sprint plan. The timesheets are also a great instrument of project time management.
---
How Sup standup bot is better than traditional meetings
It's not just about avoiding too many meetings. Conducting daily Scrum on Slack with a standup bot like Sup is a significant improvement over traditional meetings. The standup surveys are relevant enough to address the root issues, yet quick enough to save working time.
The biggest benefit when using Sup is that you bypass the flaws of human communication like misunderstanding, misinterpretation, and forgetfulness. With Sup the communication is literally converted into data; export data files and use them on an analytical platform for analysis. Traditional meetings may be personal and sentimental, but, when compared to the Slack standup bot Sup, they fall short on convenience, time efficiency, accuracy, and accountability.
---