Free Consultation
eCommerce Development Company
.
With years of experience, At Inkoop we offer solutions that enable retail businesses to be a part of the eCommerce expansion. As an eCommerce app development company we have done numerous projects and created online platforms that are interactive and convey a great user experience.
We have our in-house team of eCommerce web developers building solutions for manufactures, distributors, and wholesalers for expansion. Whether you are an Enterprise B2C or B2B eCommerce marketplace our aim of building spotless eCommerce solutions helps you stand in the eCommerce market.
Besides, we help eCommerce businesses succeed in their day to day operation by building fully functional custom-made eCommerce systems to integrate with CRM and ERP modules by creating an integrated environment for eCommerce growth.
In addition to the fact that eCommerce provides convenience, it likewise increases your overall revenue.
Design your needs
.
Retail websites
Our team understands your business and process pain points to develop software solutions that cover a wide range of solution such as POS systems, customer engagement system, integration with ERP systems, and so on.
Custom
Over the years, we have built engaging retail websites for eCommerce which are ready to adapt to high traffic volumes, with an interactive and easy to use layout for easy inventory management and payment solutions.
Mobile apps
Mobile apps facilitate customer and accelerate decision making on the go. We build mobile apps eCommerce, POS, Warehouse and inventory management to streamline your business so you make better and quick decisions.
Features that make a difference
.
For any eCommerce application first impressions is all it takes to make a mark online. As an eCommerce app development company, it is important that all elements are appealing and to ensure that we collaborate with our clients regarding:
Functionalities of the app.
eCommerce store
We build a fully integrated and functionally rich eCommerce system by customizing open source solutions for B2B & B2C businesses to improve online sales, branding, and customer engagement.
eCommerce Aggregators
A customized eCommerce solution that brings together various vendors on a single platform under the same roof, we have the resource to help you with development and monetizing strategies.
Marketplaces
With our experience as eCommerce web developers, we build multi-currency & multi-lingual marketplaces as a medium between clients & sellers to bring various products under one roof.
Delivery Platforms
With the help of our eCommerce website developers, we build solutions for a smooth operation of delivery businesses with live tracking and customizations if needed.
Booking Platforms
Our team designs solutions for booking and ticketing activities to be more transparent and usable. Our focus is mainly on the two aspects of security and performance.
B2B Trade Portals
End-to-end solutions for b2b eCommerce companies to manage and establish multichannel global trade, compete with confidence, and unite globally.
Product management
Building powerful product management software that allows you to categorize your product, organize your catalog images, pricing, and maintain product life cycle across platforms.
Inventory Management
Inventory status management, warehouse integration, SKUs and barcodes, Inventory optimizations are some of the features we build for a successful retail websites for business.
Payment solutions
Payment gateway, payment wallets, and more integrated securely with an eCommerce platform for seamless transactions.
Inkoop offers the best eCommerce Solutions
.
Start your business
Starting a new business online? Whether it's a fresh idea or an existing store our team is here to help you build, launch, and grow your online store.
Move your business online
It's an ideal opportunity to move your business on the web. Transform your retail location into retail websites & continue serving clients without missing a beat.
Switch to Inkoop
Wish to migrate your eCommerce store? Bring your existing online business to Inkoop, our team will help you optimize and maintain your online store.
Case Studies
.
82% of mobile users in the U.S. have made an online purchase via an app. Now is the time to join the bandwagon by creating a user experience that hooks users to your application. Our team of eCommerce developers understands what really matters for the online retail and eCommerce sector. We understand that every business is unique and we develop solutions keeping the requirements of our clients in mind. Thus, we come up with clutter-free solutions to help you grow your business.
We build applications that work for businesses and users regardless of whether it's an intranet platform, a progressive web app, or an eCommerce site.
Since software solutions vary significantly as per businesses. To ensure we cover the full spectrum we have worked with a range of platforms and technologies. We work with our clients from determining the technological stack to the launch and after. We build solutions for the best user experience, performance, revenue business development, and customer satisfaction.
Here are a few of our case studies based on eCommerce.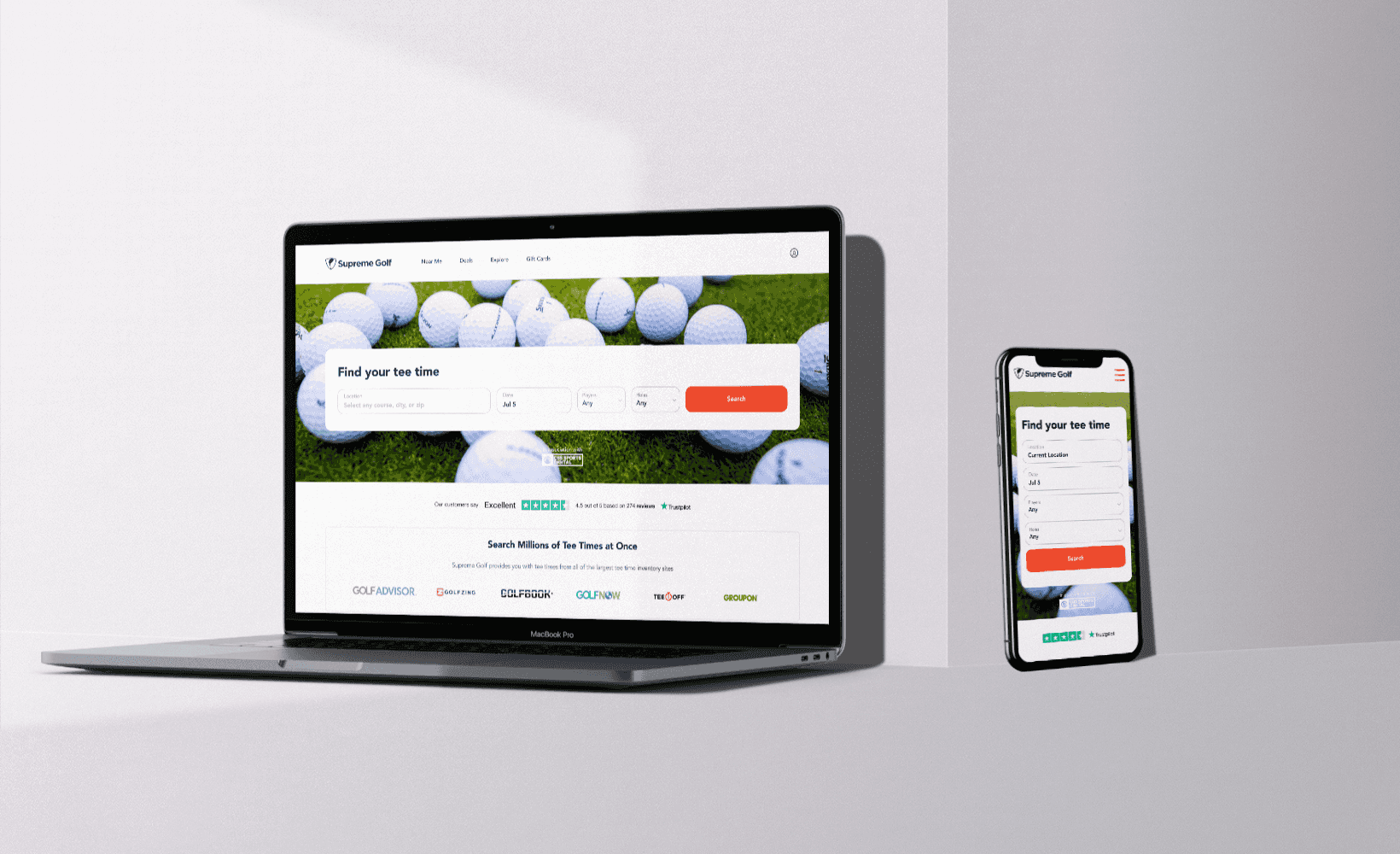 Supreme Golf
Supreme Golf is a technology firm that has created the KAYAK of golf tee times. Built more features on the website and APIs, managed bug fixes and UI changes as well.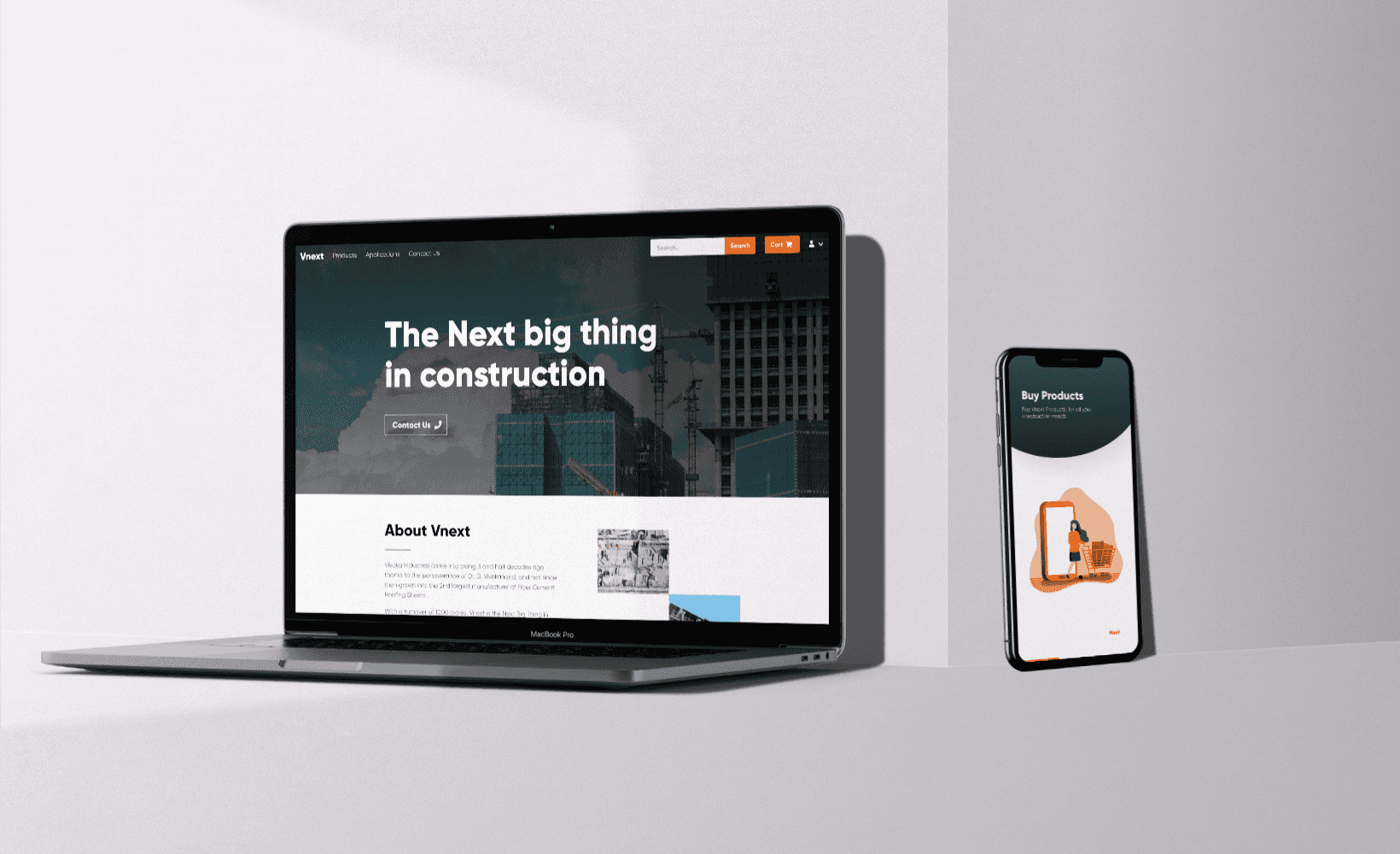 Vnext
Vnext products have external as well as internal applications, and are a good choice for paneling, cladding, false ceilings, partitions, mezzanine flooring and much more.
Our eCommerce development services
.
eCommerce Consulting
We offer specialized help to assist organizations with expanding their eCommerce business. We offer business consulting to assist them with software solutions and design counseling.
Maintenance & Migration
Regardless of whether you need a support team for your application or move or update your eCommerce site, we are here to support you. Furthermore, we will enhance your site for speed, clarity, and responsiveness.
eCommerce Audit & Optimization
To help our customers to adjust delineated goals to their genuine eCommerce results, we offer a review of the web based business environment. Based on review results, our eCommerce team advance them and give help.
eCommerce Integrations
Our eCommerce Integration effort is to enable smooth operations. We assist organizations with incorporating CRM, CMS, ERP, POS, etc.with their eCommerce web stores and versatile applications to build up easy work processes.
M-Commerce Services
With mobileCommerce, we offer your customers various benefits, including mobile ordering & payments, location-based m-Commerce, delivery apps, real-time product tracking and in store navigation.
Engagement Models
Extended Team
When in need to add more developers to your team, Hire one of ours. Virtual extension to your existing team to ensure your work is delivered on time.
Managed Project
We have an experienced team of designers & developers that takes care of your project. We oversee your project from inception to completion.
Single Service
If you need help with any specific service, e.g. UX/UI Design, Web & Mobile App Development. We are a one-stop destination for any of your application needs.
Our Process
01
---
Discussion
We begin with a detailed requirement analysis to understand your objective & scope.
02
---
Planning
We layout a plan on subsequent steps & come up with a time frame to build a quality product.
03
---
Design
Application takes shape & a layout is prepared to understand the look & feel of the product.
04
---
Development
This is where we build the product from design to code and make the application work.
05
---
QA & Testing
Intensive testing is performed to ensure that the program works Bug-free & high-quality.
06
---
Deployment
We push the code for deployment to a secure & fast server.
Industries
Restaurants
.
Wish to have your own food delivery app? We help restaurants and delivery partners build the best in class mobile and web applications to help them grow their online food delivery business.
Top Features
Push notifications
GPS Tracking
Easy payment options
Online Grocery Store
.
Launch a branded grocery delivery app that offers an amazing shopping experience to its users. Be a grocery store or a marketplace we empower businesses with web and mobile applications.
Top Features
Advanced Product Search
Easy login options
Secure Payment
Fashion & Clothing
.
Online clothing store when you are ready to build your brand. We design and develop clothing stores and brand websites that enhance user experience and brand loyalty.
Top Features
Product Search
Order Tracking
Manage offers and promotions
Online Booking Solutions
.
A customized online booking platform for your business. An application that is scalable, secure, and helps you increase your customer reach.
Top Features
Secured Payment
Enhanced Search
Interactive UI/UX
Fleet Management
.
Build a fleet management app that allows you to manage many vehicles at a time using a custom dashboard.
Top Features
Remotely Managed dashboard
Live fleet view
GPS tracking
What is it like to work with us
?
Sprint Manager
We work in sprints to have more control over the project scope. We follow scrum architecture for our projects. Managers plan out sprints on a weekly basis and ensure on-time delivery.
Daily Update
We communicate daily to keep you updated with our work. Every morning we do stand-up's to discuss ongoing & upcoming tasks to ensure quantitative progress.
Quality Analysis
We take a pragmatic approach towards quality analysis that is not only focused on bugs or mitigating the security risks but also aimed at meeting the quality testing standards.
Test Server
We provide a test server to everyone involved in the project for debugging and testing to ensure we meet your expectations and Industry Standards.
Support
We offer full support after you go live. Our support team will help you with bugfixes & walkarounds.
What Our Clients Say
?
"A responsive team, Inkoop is always available to provide support, making them excellent partners. Over the past five years, the project has run smoothly and successfully, satisfying internal stakeholders."
Cam,
CPO, Arts Management System
- VIA CLUTCH
"The portal has had a great impact since it's been integrated to the website. The team at Inkoop is responsive, easy to work with, understanding, timely, and able to do a great job."
Gerald,
CEO, Ballers Bridges
- VIA CLUTCH
"Inkoop exhibited their ability to grasp a complex project and provide potential solutions. The team strategized through seamless communication and a clear prioritization of tasks. Their efficiency and flexibility led to the speedy finish of a first-rate development project."
Jesse Fowl,
Managing Director, Solomon Solutions INC
- VIA CLUTCH
Frequently Asked Questions
I just have an idea for the project, can you help me take it forward?
My project will need continuous enhancement and changes?
How does your team select the ideal technology for my project?
How do you manage the code?
What project management tools do you use?