Free Consultation
Sports App Development Company
.
Today, Web and Mobile Applications have made things simple and accessible for people to know all. From getting continuous experience like watching in the arena, book game tickets on the web, get scores with the complete analysis, and much more, Sports Enterprise Mobility offers all that you can imagine. An elite sports App Development Company can build up a game application that achieves all needs of individuals related to the sports business.
Features That Make A Difference
.
Geofencing
Particularly valuable in live games, geofencing permits the gadget to associate its position with parameters set by the coordinator.
Live Score
The ability to scan, scrape, and record the live score changes is an important feature when it comes to sports mobile applications and fantasy leagues.
eTicket
Another approach to support live occasions, customary spectatorship can turn into a digitally enlarged experience.
Fantasy Leagues
On the off chance that you incorporate a dream sports component to your application, you'll have to incorporate matchmaking and authoritative components.
Team Organization
From mentors reaching players to athletes looking for opportunities, team organization is getting progressively advanced.
Wearable integration
IoT gadgets ordinarily require dedicated software and highlights, permitting the proprietor to interface, sync, and screen their information.
Social tools
Many sports mobile applications are frequently found on social media sites. Informing, statuses, photographs - they are a crucial element for business.
Case Studies
.
At Inkoop, we have the capability to build up an elite sports application that achieves all your business requirements just as to boost social awareness and help you close deals. From amazing design to effective application advancement, we have the expertise to assemble a fruitful application that includes every single predominant component and functionalities.
Inkoop is a pioneer in sports application development and mobile solutions for the sports business. It has taken over time of commitment, and dedication to gain such a title however we're happy to have been a part of numerous projects. Our team moves forward with every circumstance much like a partnership. We will work with you to meet your objectives and build up an arrangement to assist you to meet them.
Take a look at our work in the sports below -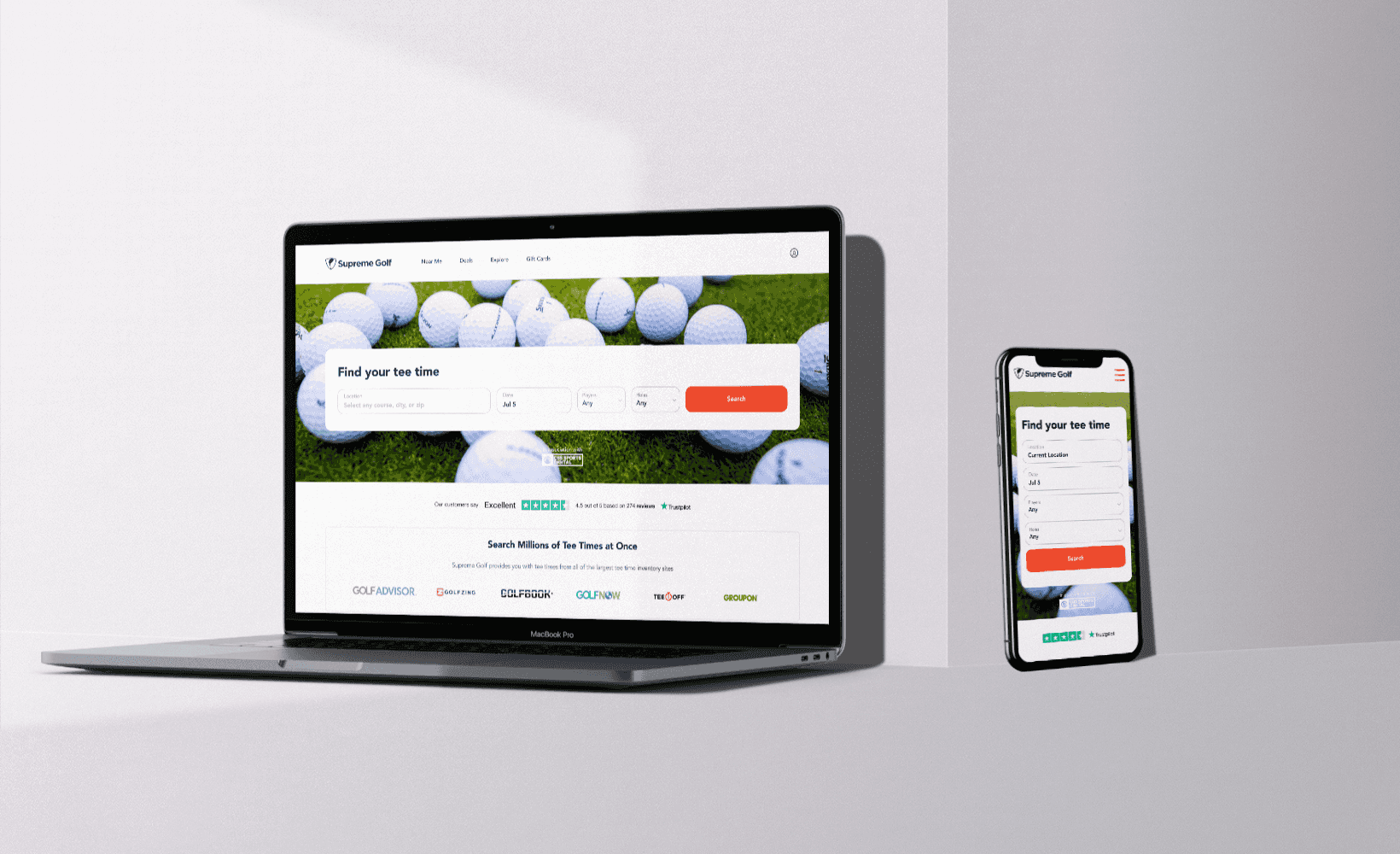 Supreme Golf
Supreme Golf is a technology firm that has created the KAYAK of golf tee times. Built more features on the website and APIs, managed bug fixes and UI changes as well.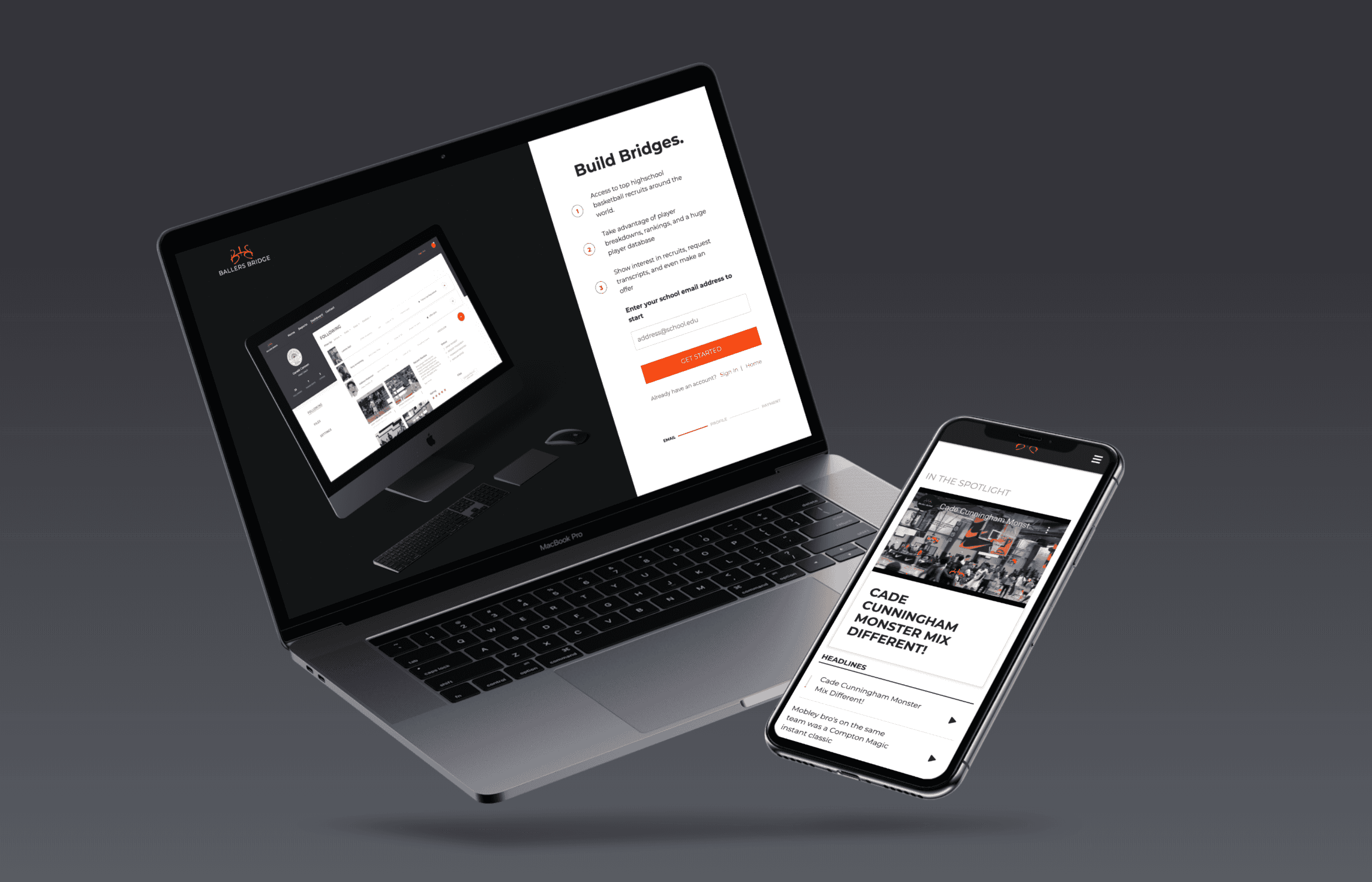 Ballers Bridge
Ballers bridge is a website that showcases college basketball players with short videos of their talent. The website is built on Ruby on Rails, NodeJS and ReactJS.
Fantasy sports Apps
.
Fantasy sports apps is the trend now in the sports industry. Our group pushes ahead with each situation much like a partnership to help you build a fantasy app. We will work with you to meet your goals and develop a plan to help you to meet them.
Sports web portals
.
Our skilled sports app developers can build a feature rich application for the sport enthusiasts looking for live scores and real time update as they follow a game from any part of the world.
Live Streaming Applications
.
Bringing Tv experience to smart phones Live streaming applications are great way to do so.
Sports lover can enjoy live games wherever they want just with the help of an application.
League Management
.
League management applications let user check team member detail or league detail, score card, team ranking covering all aspects exclusively.
Event booking apps
.
We design and develop event booking apps that are capable for handling multiple users seamlessly for an amazing user experience.
Gaming solutions
.
Sports apps to take user engagement to the next level. Our professionals are experts in data mapping and building a solution to increase your target reach.
Apps
Solutions At Inkoop
.
As a professional sports app development company, we build feature-rich applications for businesses and users. With an experienced team, we have built custom sports applications for athletes and sportsperson.
Every sports business should put resources into website advancement to keep up its reality and attract users. We build up a responsive and exceptional site for sports. Our web designers are experienced and acquainted with different web application advancements.
Include some new energizing highlights of AR and VR to make your application adored by everybody. Add new users by increasing your reach with this element.
League management applications let user check team member detail or league detail, score card, team ranking covering all aspects exclusively.
Wearable gadgets are valuable for users as they can wear it and run, run or do any physical exercise and screen their exercises with the assistance of applications. We create wearable applications for Android and iOS
We provide upgradation and maintenance for applications and sites. Our specialized group is dynamic to deal with inquiries and offer operational help to you.
Engagement Models
Extended Team
When in need to add more developers to your team, Hire one of ours. Virtual extension to your existing team to ensure your work is delivered on time.
Managed Project
We have an experienced team of designers & developers that takes care of your project. We oversee your project from inception to completion.
Single Service
If you need help with any specific service, e.g. UX/UI Design, Web & Mobile App Development. We are a one-stop destination for any of your application needs.
Our Process
01
---
Discussion
We begin with a detailed requirement analysis to understand your objective & scope.
02
---
Planning
We layout a plan on subsequent steps & come up with a time frame to build a quality product.
03
---
Design
Application takes shape & a layout is prepared to understand the look & feel of the product.
04
---
Development
This is where we build the product from design to code and make the application work.
05
---
QA & Testing
Intensive testing is performed to ensure that the program works Bug-free & high-quality.
06
---
Deployment
We push the code for deployment to a secure & fast server.
Why Choose Us
?
At Inkoop We have been able to deliver our promises through our highly experienced team dedicated to design elegant web applications. Using the latest technologies and tools, with our high coding standards our developers have brought smiles to our client's face and this has helped us build a bond with our clients.
Detailed Requirement Analysis
We at Inkoop do a detailed requirement Analysis with our clients to provide end-to-end web development service and make sure we meet Our Client's expectations with a quality product.
Experienced Team
We have dedicated programmers, UX Developers, and testers. Our Developers have skills in building single-page web applications and complex versatile applications.
Product Security Assurance
Your project is completely secure with us. We take all necessary measures to secure your App. We sign a full non-disclosure agreement with our clients.
On-Time Delivery
Project on-time delivery is the utmost priority. We deliver all the projects we work on within a timeline with great quality. We keep you updated on the progress in addition if the product has issues/bugs, we fix them for free.
Premium Code Quality
Premium Quality is the goal throughout the development process. We have our QA team that ensures the code is always of high quality and optimized. The Quality of the code is significant, as it impacts the general programming quality. What's more, quality affects how protected and secure your software is. The premium quality ensures that the website performs well when you have high traffic.
Test-Driven Development
Our team uses the latest technologies and tools. All the code written by us is tested with automated tests. This helps you against unexpected code changes in the future.
Planned Development Process
We plan our work in Sprints of 2 weeks. We use project management tools like Jira, Asana, Wireframes, Adobe XD and Invision. These are all standard tools used across the industry, Where you can assign a task and monitor the development. All the work is put in the project management tool of your choice and we communicate on a regular basis on Instant Messenger like Slack.
Support and Maintenance
We've got your back even after the work is done. We provide support and maintenance. Performance bug monitoring & fixes, security updates & backups.
What Our Clients Say
?
"A responsive team, Inkoop is always available to provide support, making them excellent partners. Over the past five years, the project has run smoothly and successfully, satisfying internal stakeholders."
Cam,
CPO, Arts Management System
- VIA CLUTCH
"The portal has had a great impact since it's been integrated to the website. The team at Inkoop is responsive, easy to work with, understanding, timely, and able to do a great job."
Gerald,
CEO, Ballers Bridges
- VIA CLUTCH
"Inkoop exhibited their ability to grasp a complex project and provide potential solutions. The team strategized through seamless communication and a clear prioritization of tasks. Their efficiency and flexibility led to the speedy finish of a first-rate development project."
Jesse Fowl,
Managing Director, Solomon Solutions INC
- VIA CLUTCH
Frequently Asked Questions
I just have an idea for the project, can you help me take it forward?
My project will need continuous enhancement and changes?
How does your team select the ideal technology for my project?
How do you manage the code?
What project management tools do you use?