Get a fully-managed eCommerce website
.
With our eCommerce platform, we manage everything related to your eCommerce website.
You can just relax and run your business.
Get it at
₹7,999/3 months
(Setup cost included)
Get a demo
What do you get?
All the features of eCommerce
You get all the common features of eCommerce like inventory and order management, giving discounts, etc.
Choose a beautiful design or we also custom build*
We have 10+ designs to choose from or we can build a new design for you based on your requirements.
Content writing for your entire website
We write and manage all the content for your website and products. You don't have to do a thing.
Managed products and inventory
We manage to add/update your products to the store with all the details. We make it super-easy to keep your online store up-to-date.
Domain Registration and Hosting
We register your domain (xyz.com) and maintain it. We host your website on premium platforms so that it is always online.
Email & SMS
Integration
Emails can be configured to go out from your domain. We are registered with TRAI to send SMS, we can also customize the sender name as per requirements.
Get a demo
.
Just fill the form
and we'll get in touch with you.
Easily manage your store with our console
.
Our Platform comes with a feature-rich Admin Panel. Manage Products, Shipping, Discounts, Inventory, and everything else from our easy to use admin panel.
Don't want to use the admin panel? No worries, we will do everything for you.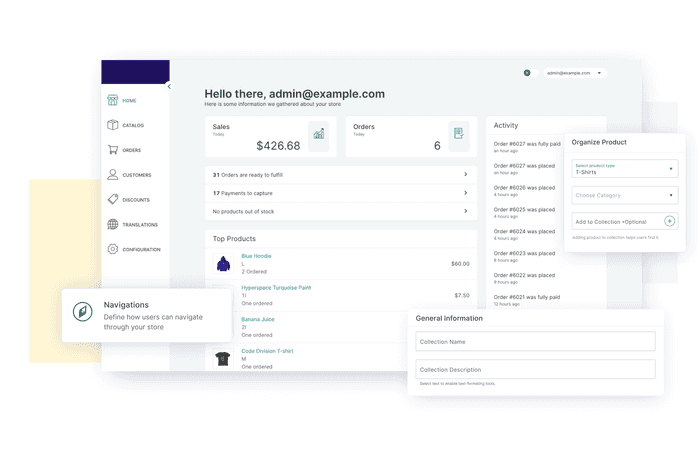 A platform for everybody
.
Individual Creators
If you are an individual creator planning to sell your good and services online, Our platform works perfectly for you. With easy setup and low cost, you can easily start your business online.
Small Businesses
If you are a small business planning to add an online storefront to your existing business you can easily use our platform to build your store, with very less work and management at your end.
Large Businesses
If your business is large scale and diverse, or you want to upgrade your current solution our platform has all the features and tools to help you manage your online business on every end.
Frequently Asked Questions
How long will it take to set up the website?
I own a small business and just want to add an online storefront is this the right platform for me?
How would I manage the store? Do I need to contact you if I need any updates in the future?
I just have an idea for the project, can you help me take it forward?
My project will need continuous enhancement and changes?
Start your business
Starting a new business online? Whether it's a fresh idea or an existing store our team is here to help you build, launch, and grow your online store.
Move your business online
It's an ideal opportunity to move your business on the web. Transform your retail location into retail websites & continue serving clients without missing a beat.
Switch to Inkoop
Wish to migrate your eCommerce store? Bring your existing online business to Inkoop, our team will help you optimize and maintain your online store.