Mobile apps help people to access the same software like those of a personal computer or a laptop on their mobile phone. All it takes is a tap on the application to enjoy its features. Mobile app trends help us understand where the industry is heading towards considering both businesses and consumers.
These are the top 10 mobile app trends that must be considered during mobile application development in 2020:
1. Mobile wallets are on the rise
Not having to worry about having adequate change when you go to a restaurant, being able to track receipts and expenses easily, and being able to make payments quickly makes mobile wallets a more convenient way to send and receive money. According to a report by e-marketer, over 1 billion people will use a mobile payment application to pay in-store in 2020.
According to an article by Fintech, a widely used mobile wallet application, Paytm, recorded a 4x growth during the nation-wide lockdown in India.
2. Voice assistant applications are new mobile app trends
A report by e-marketer states that there will be over 100 million smartphone assistant users in 2020. These assistant applications enable one to make phone calls, read text messages, read about the latest news on the web, and respond to questions like the date, time, and weather forecast. Some popular voice assistant applications include Apple's Siri, which has been installed on more than 500 million devices, and Amazon's Alexa, which is present in over 60,000 smart home devices.
3. More applications based on artificial intelligence are being used
Users are constantly looking for something new. Using artificial intelligence is one of the app trends that can help users quickly find a product/a service that meets their needs.
According to an article by Forbes, artificial intelligence will become more prominent in the field of entertainment. Entertainment-based applications, in which one can view television shows or movies, already show recommendations on the basis of what a customer has already viewed. Artificial intelligence will also exist in the field of gaming as the difficulty level for a user while playing a game will automatically adjust itself according to the user's capability.
4. Virtual and augmented reality are shaping mobile app trends.
According to Statista, the expenditure on augmented and virtual reality has been forecasted to be over $4 billion in 2020.
Augmented reality is commonly used on applications like Snapchat through which a person can add digital elements like glasses on their face. This makes the user experience more interactive.
Virtual reality is the most interesting mobile app trends right now, through which one feels as if they are actually present in a realistic environment that they are seeing through computer-generated images. Businesses following the app trends use this strategy in the tourism sector and show virtual tours of places like monuments and gardens through a computer screen in a close-up view. For instance, Google Expeditions is one of the applications which has successfully applied the concept of virtual reality during the process of mobile application development.
While traveling is something that one can't do during the pandemic, Google Expeditions still enables one to learn about places of the world which one can't explore.
5. The wearable apps market is growing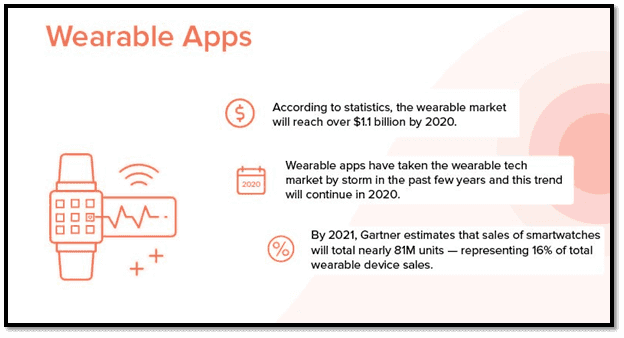 Image Source: AppInventive
Wearable devices are used for fitness purposes, like measuring one's heart rate and calories burnt. They are also used in fields like defense and medical equipment. Some mobile apps have features that support the wearable devices. The increase in demand for these wearable devices has been attributed to the increasing disposable incomes of consumers all around the globe. People are also becoming more concerned about their physical health. (Source: Allied Market Research).
6. An increase in the application of Internet of things
Isn't it great that you can walk into a room and the temperature will automatically adjust itself to the temperature that you usually set on your AC remote? Internet of things is making this possible. Moreover, IoT helps in improving a customer's experience with an application and has the ability to enhance his/her quality of life. The number of IoT connected devices is expected to grow to 30.73 billion in 2020. (Source: Statista)
Internet of things is a concept which enables devices to connect to each other without the involvement of a user. Physical objects combine with electronic sensors to improve the experience of the user. Internet of things is being applied in various fields, whether it is the automotive sector, phone tracking software, self-driven cars, or logistics.
7. Beacon technologies are being used
If you're at a grocery store and start to receive notifications about the discounts that you can avail on different items in the store, wouldn't you want to explore the products that you're being notified about? Proximity marketing is a new trend that marketers are working towards. In places like restaurants and tourist attractions, this form of marketing can be leveraged successfully by delivering the right message at the right time.
Beacon technologies take the help of beacons placed around stores to send the target customers messages about products. Bluetooth low-energy signals are used for this purpose. The customer needs to have an application that supports the beacon technology and enable Bluetooth on his/her phone before a message can reach his/her phone.
These technologies will help retailers to know how much time a customer spends in the store and which section of the store he/she visits regularly. This will make the offers more personalized for the target customers and encourage more sales.
8. Foldable device based mobile applications are being developed
The best part about using foldable devices is that your device can fit easily in your pocket and your bags. One doesn't have to carry these devices from one place to another by hand.
The number of foldable smartphone shipments will reach approximately 13.6 million in 2020.
Mobile app trends will shape the app development industry to ensure that a screen changes between modes, i.e. when a screen has not been folded and when the screen has been folded. Samsung has already started working on multiple displays for foldable smartphones.
9. Enterprise Mobility Management and Application Performance Management Software is being used
According to a report by gminsights, the enterprise mobility management market was valued at 3.5 billion USD in 2019 and is expected to grow at over 15% CAGR from 2020 to 2026. Enterprise mobility management software makes sure that the data of the business enterprise is kept securely on the employees' personal devices. Only authorized applications and data can be used by employees. Businesses can protect any confidential data through the EMM software. Devices can be located by businesses and multiple devices can be managed through one console. Moreover, the software makes sure that employees receive the necessary data that they require to perform their tasks quickly. Better communication between the managers and the employees of the company is also necessary for businesses as they will be able to take decisions in an efficient manner through this method.
During the coronavirus pandemic, the option of working from home has been given to employees until the end of the year 2020. During this time, it is expected that there will be an increase in the demand for enterprise mobility management software.
If a new employee starts working in an office, how would you measure his/her productivity on a computer or a laptop? Performance management software enables companies to track the work done by their employees. Businesses can measure whether or not employees are being able to meet the goals that have been set for them. The software can also automatically prepare reports that can help the businesses in making decisions like whether or not to continue working with a particular employee, whether an employee should be promoted, and if an employee requires additional training to meet the set targets. One of the most important things to consider while developing performance management software is to make sure that all of the employees' performance can be tracked. The software should not be such that only some of the employees are able to record their data. Applications like Driver Performance Management and AssessTEAM are commonly used to measure the performance of employees.
10. Applications based on cloud technologies are the new app trends
According to Hosting Tribunal, the global cloud computing market will exceed $330 billion in 2020.
By using cloud technologies, users can access applications and resources as when they are demanded. Information can be accessed using the Internet and there is no need to operate from one specific physical location. There is also an element of security when one is accessing data using cloud computing applications. A survey conducted by MicrosoftOffice360 found that 94% of SMB's appreciate the security updates that cloud computing software provides them with.
Summary
It's necessary for app developers to keep changing their practices according to the mobile app trends. Whether or not one considers these app trends can be the difference between an app that gains immense popularity in the market and one that does not get noticed enough.
Do you use any mobile apps that follow the app trends which have been listed above?
If you want help in developing a mobile application that follows the trends which have been listed above, you can head over to our services page for more information.
Contact us to build your mobile app.
- Mohita