A hybrid workplace seems inevitable. As technology has stripped down geographical barriers and merged global communities into a single unified market—it is bound to trigger work culture changes. A global market has a dynamic demand, which needs flexible and adaptive production processes. And a steep need for such production processes is a hybrid workplace.
Since the hybrid workplace model is not going anywhere anytime soon, improvements will need to be made to the model. A major improvement was the development of platforms like Slack. Slack, as a business communication platform, introduced dimensional upgrades to workflow productivity.
On Slack, you will find multiple free bots to conduct daily standups and follow-ups with your team. A slack bot for daily standup gives you greater control over the workflow with automated and asynchronous daily scrums. The free standup bots for slack are a perfect fit in a hybrid workplace where they install maximum workflow synchronization and require minimum workflow disruption.
In this blog, we will cover 6 best free standup bots for Slack in 2021 and their key focus areas.
---
1. Sup! Bot — Quick standups, comprehensive reports
The Sup! standup bot excels at standup/follow-up features that help you make better reports. The bot automatically asks task-specific questions to users, maintains a history of user responses, and helps you build reports from the responses.
The Sup! bot can be examined based on four aspects:
The primary feature—which is, conducting asynchronous standups/follow-ups.
The supporting features—Persistently reminding users of a standup/follow-up. Allowing users to customize multiple questionnaire templates. Allowing users to schedule unlimited follow-ups, and allowing users to edit previous responses.
The reporting features—Generate unlimited spreadsheet reports from any standup/follow-up, for any period.
The interface—perfectly integrates with slack, encouraging a smooth workflow. The standup/follow-ups responses can be submitted from Slack. It allows you to view the history of user responses. This standup bot for slack automatically posts standup/follow-up responses to their respective channels. And the bot provides a well-organized web-based dashboard that gives flexible control over all features, including filtering user responses based on date, question, and user name.


Let's see how to use Sup bot to conduct surveys and build reports
You can access all the important features of Sup from Slack. You can add and edit the latest response to standup/follow-up. You get the option to create new follow-ups, and the link to take you to the web-based dashboard. Your message history on Slack with Sup bot displays your history of standup/follow-up responses; you can edit any of your previous responses.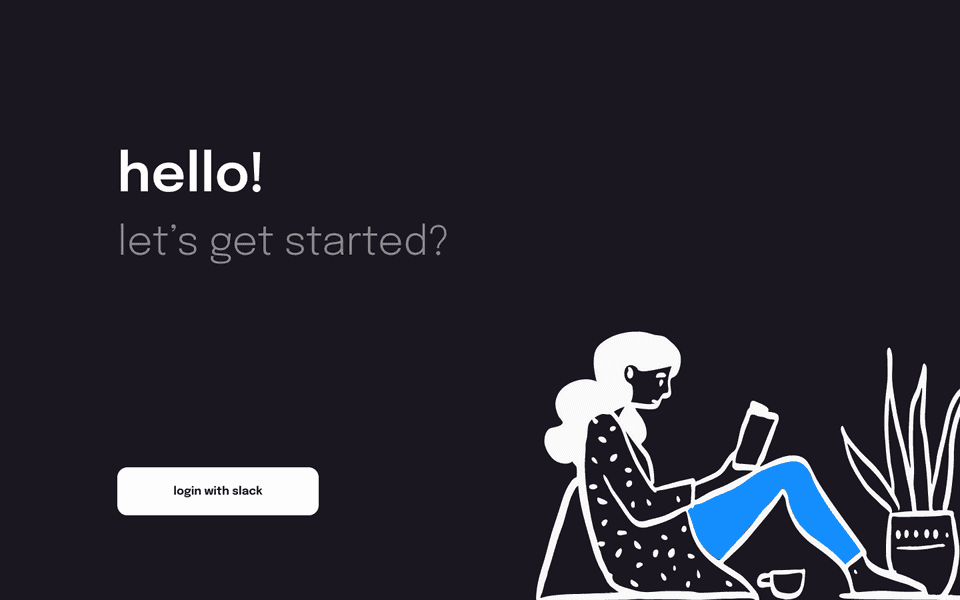 Adding a standup/follow-up response from Slack
On scheduled dates and times, Sup always notifies users. You can also tweak the settings and have the bot schedule multiple reminders—if in case the user fails to respond. At the scheduled time the bot prompts a message to the user, asking to submit the response. The user can submit a response, or instruct the bot to ask later (you can put it on snooze for 30 minutes). In standups and follow-ups, a preset template of questions is used, which can be changed at any time to anything.
Editing a previous response from Slack
The message history with Sup contains your entire record of previous responses, along with the option to edit each response. You simply scroll through your history and edit the required response. The "edit response" link redirects you to the web application of Sup, where you can edit the response and update it. The edit response feature ensures that your response reflects the actual task progress; reducing the chances of inaccuracy in reports.
Creating a new Follow-up from Slack
The flexibility of the follow-up features makes Sup one of the best standup bots for Slack, especially in a remote/hybrid workplace. You can ask any question, at any time of the day and to any number of users. In the Sup home tab in Slack, you will find the "Create New Follow-up" option. Clicking it will take you to the web app of Sup.
Here you will be able to both create new follow-ups and edit an existing one. When creating a new follow-up you can assign a channel, select specific users, and choose from the existing question templates(or write up a new question.) You also get to select the days you want the follow-up to continue and at what time. Finally, you can also select the number of times you want the bot to remind the users.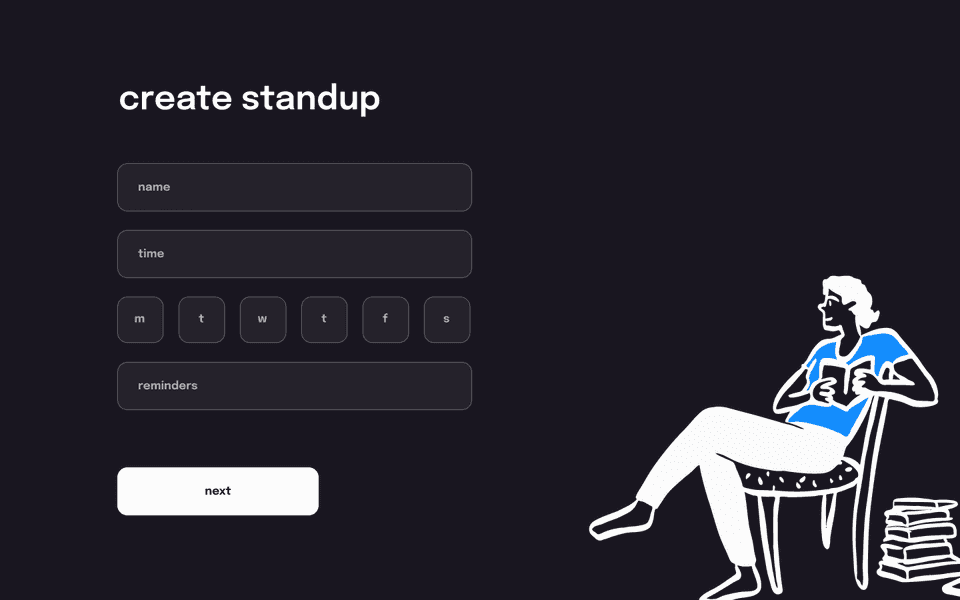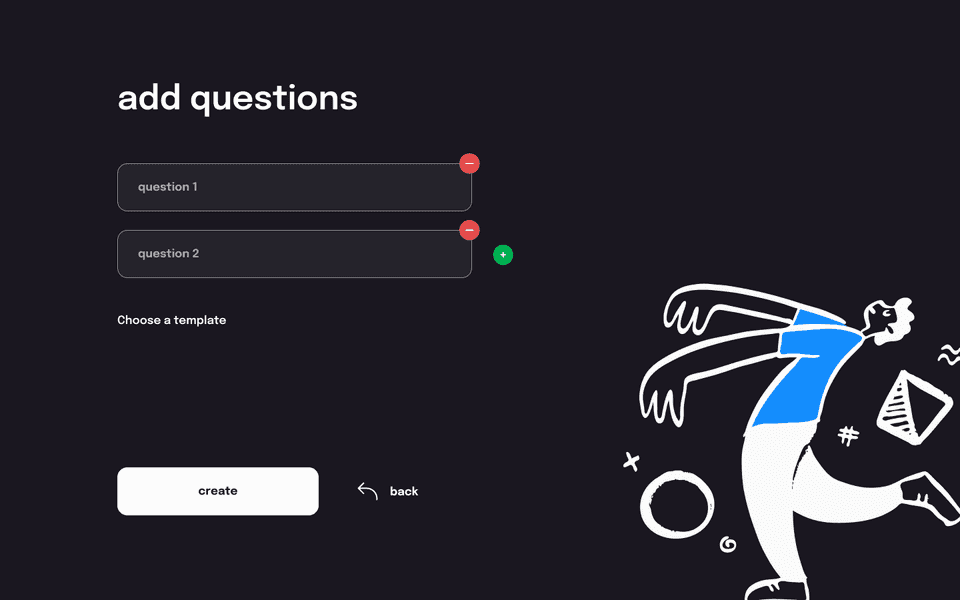 The web application interface from Slack
The home tab of Sup on Slack has the "Dashboard" link that promptly redirects you to the web application of Sup. This interface puts you in complete control of the Sup bot, allowing you to tweak every feature.
The dashboard displays a history of all the responses. By default, it displays all the standup responses, but it can be switched to any of the follow-ups. You can also filter the responses on the dashboard based on the question, user name, or date.
Adding follow-up Templates
The Sup web app has a tab dedicated to follow-up templates, where you can edit an existing template or add a new one. You can not only add unlimited templates but also add unlimited questions to each template. Type in your questions, save them and use them when creating new follow-ups.
Make reports from Sup
The Sup also has a dedicated tab for generating reports. This tab allows you to download reports (as CSV files) that have already been generated and generate new reports as well. When generating new reports you can select the follow-up to generate the report from. You can select a start and end date for your report. And you can select specific users—whose data you want to include in the report.
When you generate a report, the bot arranges the data (like date, name, email, and response) across rows and columns and exports it to your local device as a CSV file. You can use this report on other analytics platforms and applications to yield decisive insights.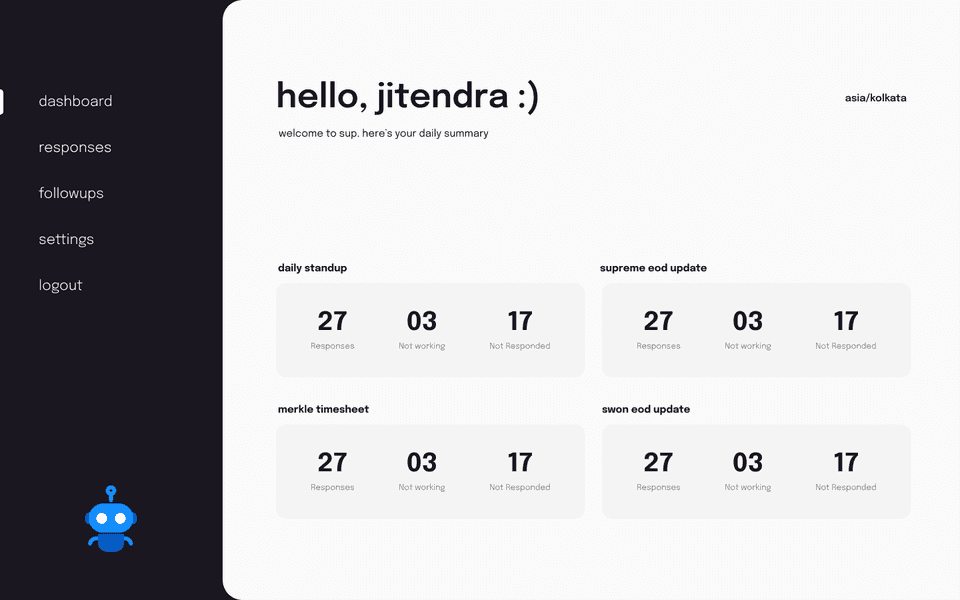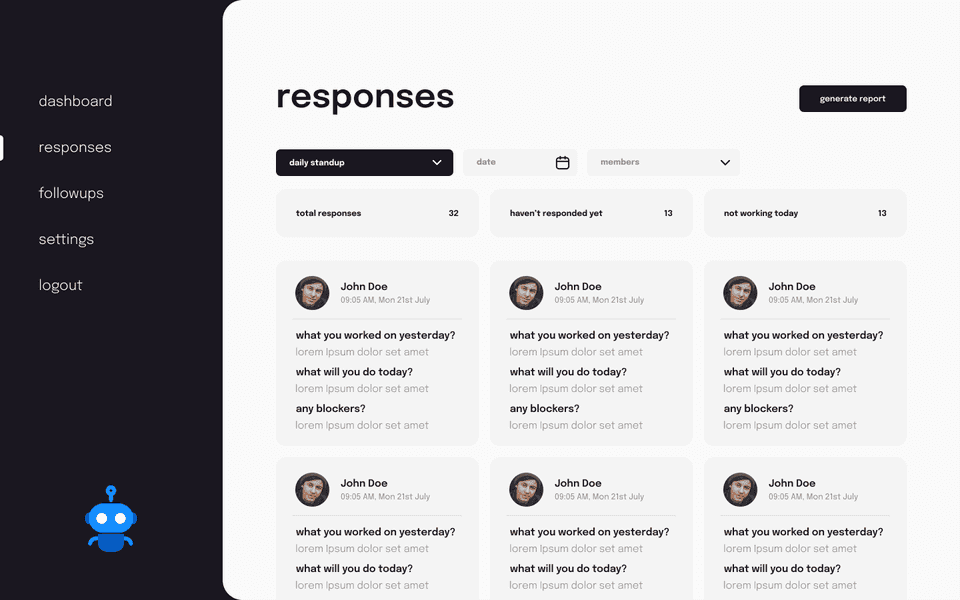 Edit timezone settings
The "settings" tab in the Sup gives you access to timezone settings. The Sup standup slack bot doesn't discriminate based on geography. The app integrates perfectly with work cultures across the globe. You can select the timezone of your location and seamlessly use all the features of Sup.
How can Sup bot improve your productivity?
The Sup bot with its asynchronous standups and follow-ups (with a multiple reminder system) resolves the challenges of remote working. The quick surveys save work time and keep the workflow of team members uninterrupted. The customizable questions help you build follow-ups specific to different projects and different teams.
This free standup slack bot helps you treat the responses collected from users as data: which can be further used to generate reports. The history of responses maintained by the bot, along with the option to edit previous responses, eliminates the risks of inaccuracy while building reports. And finally, unlike many freemium apps, Sup is agnostic of team size. Sup is free for all team sizes.
---
2. Dixi — The one-stop meeting automation.
The Dixi bot can also be considered as one of the best free standup bots for slack. The bot helps you set up multiple asynchronous meetings, automate HR processes, automate reporting, and conduct informal team communication. You set up a quick meeting on Dixi by defining three parameters--Channel and participants, questions, and schedule.
The time zone flexibility of Dixi is one of its strongest features. Dixi allows you to edit the timezone for each user. The bot also allows you to automate the reporting and features a backend admin panel (with the option to add multiple admins.)
---
3. Collaborabot — Makes your standup meetings fun
The Collaborabot from its interface to features takes a friendly approach to scrum meetings. It allows you to design different standups for different projects, supports multiple time zones, and has a user-friendly dashboard to customize the features. The feature to watch out for is the JIRA add-on; it helps you sync your communication in Collaborabot with the workflow on JIRA.
---
4. Stander.io — Short and quick standups
The Stander.io is a very light and simple free standup bot: perhaps a bit too simple! It lacks few of the features of its competitors, but it's free and it works well in conducting automated asynchronous standups. Stander.io needs you to use a slash command to post standup responses, which can be a tad bit inconvenient for non-IT professionals. A big win with this bot is that it allows you to pull from GitHub commits. To summarize, Stander.io might not be the best slack standup bot out there, but it will definitely have its niche of IT professionals who prefer quick daily standups and nothing more.
---
5. Agile bot — enables quick survey
The Agile bot like its name puts a lot of emphasis on speed with its features. The Agile bot can be seen as a more user-friendly version of the previously discussed Stander.io. The Agile bot is not feature-heavy. It sticks to the basic need of stand-up and focuses on making it quick. The bot lets you select basic details, select participants, set questions, and set a schedule. While submitting a new response, the bot displays the last response. And after submitting a response it is automatically broadcasted to the respective channel. An Agile bot is also a good option for people who just want quick and simple standups.
---
6. Scrumie — Stay updated on team progress
The Scrumie features are designed to create a broad overview of your teamwork. Scrumie conducts short asynchronous standups to avoid long and tedious meetings. It gives a teamwork overview to quickly spot the missing work. And it logs team availability to everyone's convenience. Lastly, Scrumie comes with Trello integration.
---
How to select the right bot for your workspace?
As you have noticed, different free standup bots for slack focus on different aspects. So, it ultimately boils down to the needs of your workspace. Do you have a big team working on different projects? If so, then you need a bot with flexibly customizable follow-ups and a comprehensive report compilation. Or are you a startup with just a few projects? Then maybe for the time being you can do with just short and quick standups.
---
Install Sup - Add to Slack
Sub Website - Learn More about Sup
- Anubhav De