42% of the world's population uses social media, which is a major reason why you cannot afford to ignore social media when it comes to digital branding. (Source: Khoros) Every customer has many people to choose from when it comes to getting their job done. However, it is only a proper digital branding strategy that enables a brand to successfully distinguish itself from its competitors. These are some of the ways through which a company can leverage social media and establish a reputation for itself.
1.Making your brand profile/page aesthetically pleasing
There is no doubt about the fact that aesthetically pleasing brand profiles and pages stand out from others. Generic profiles with only the name, address and phone number rarely make it to the top, simply because the target audience does not spend enough time looking at them.
Whenever you're posting online, make sure that you're using your creativity to the best of your advantage for digital branding. Some examples include having a unique caption beneath the name of your brand. For example, you could include a description of your brand in an interesting way, like "Web design that makes you pause and makes it difficult to move on." Many brands make the mistake of not including anything apart from the name of their brand.
Having an aesthetically pleasing cover photograph on platforms like Facebook and LinkedIn also helps. Let's take the example of a company with a photography business. Adding some sample photographs that the company has clicked in the cover photo will make the target customers more interested in working with the company, and it will differentiate the company from those who're not even thinking about including a cover photograph.
Experimenting with different colours and font sizes will make it easier for you to get customers interested in your brand and your offerings. And, if images seem too ordinary for you, then you can create video covers on Facebook which will provide you with the opportunity to give your customers an idea of what the business does and who they're going to be working with.
2. Using hashtags to promote yourself
Hashtags are an important tool to communicate with your audience when it comes to digital branding. For example, if you are a web development company, then using hashtags like #websitedevelopment and #webdesign will help you to reach prospective customers.
For instance, a quick search for the hashtags related to web design can be done using tools like All Hashtags. Since these hashtags are the most trending ones on social media platforms, they will give your posts more visibility and help with digital branding.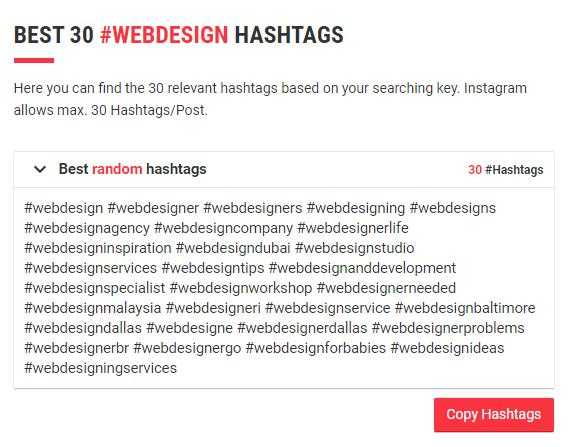 Image Source: All Hashtags
3. Make sure that your brand image is consistent across all platforms.
A customer should not be confused about what your brand represents. The brand image created in your customers' minds should be consistent across all platforms, whether it is Facebook or Instagram.
Achieving consistency for digital branding is simple. It can be done in ways like choosing a particular colour scheme. For instance, you might choose red and white as the primary colours for designing social media posts on Instagram. Make sure that you use the same colours for your Facebook posts as well. Being consistent gives your brand an identity of its own.
4. Choose different marketing strategies for different social media platforms.
It's important to change your marketing strategies across the different platforms that you use. The percentage of people from your target audience using different social media platforms is not the same. So, how do you decide which type of content you should choose for each of our websites?
Well, the age and the gender of the people who use a particular social media platform could be the starting point for you to plan out a marketing strategy.
The 2020 Social Media Demographics Guide released by Khoros provides some data which can be useful for your social media marketing efforts.
For instance, if your brand is aiming at attracting youngsters, then Facebook might be the best choice out of all social media platforms. The data shows that 86% of Facebook users are between the age of 18-29, which is more than the number of youngsters between 18-29 who are using platforms like Instagram, YouTube, Snapchat, LinkedIn, Pinterest and Twitter. This means that content which millennials are familiar with should be used on Facebook, as they will be more likely to take interest in a brand if they can relate to the brand.
5. Connect with your customers.
Many brands make the mistake of posting content on social media, such as photos and videos and not reading the comments on their posts later on.
Communication is a two-way street. If you send a message to your target audience, but ignore your customer's concerns, then the communication is one-sided, and it can hurt your brand image and your digital branding paln could go for a toss.
Make it a point to connect to your customers. Respond to any queries that the customer might have on platforms like Instagram and Facebook. Customers like to communicate with the brands who pay attention to what they have to say.
6. Don't be monotonous.
Customers already know what your offerings are after reading a few social media posts. Beyond that, customers want to read some new content.
Monotonous images of products or monotonous descriptions of services might work once or twice, but you need to think of new ways of communicating your message if you wish to succeed with digtal branding. For instance, a brand could start posting videos related to customer testimonials or write the testimonials with a recently launched product. This will grab more attention rather than simply writing about the product or service.
Apart from being unique when it comes to your posts on social media platforms, it's important to write your content like your descriptions in a particular style. You can choose to be either informative or be humorous with your audience. Your brand will be remembered by the style you adopt, so it is a wise idea to decide your writing style wisely and not to change it on a regular basis, which could risk your digital branding plans. web design company would prefer to be more informative about the best practices for web design, in comparison to an entertainment website that would prefer to be more humorous.
7. Make sure that your messages are positive.
Negativity drives people away, not just from each other but from a brand as well. Try to engage with customers in a way that is positive. For instance, the recent coronavirus situation has led to brands educating customers about hand-washing principles and encouraging people that the future will be brighter than what it seems in the present. This is a better approach to use than being negative about the situation and talking about the threat of the situation to mankind.
If you're offering services like website design, it would be a good option to emphasize on how marketing is still possible during a pandemic- through your website!
8. Be Regular.
Only posting once or twice in a few months is not going to be of any benefit to your marketing strategy. That is enough time for your customers to forget about the existence of a brand and move on to other brands instead. To avoid being forgotten, make sure that you're regular while using social media.
It's ideal to post on social media platforms 3-4 times a week so that your target audience has some content which they can read. On the other hand, overdoing your social media strategy could actually lead to a drop in your followers, so don't start posting multiple times for many days in a row.
9. Connect with brands in your industry.
Everyone wants to grow their network on social media. In the race of digital branding trying to be the most followed brand on social media, people often forget the importance of connecting with similar brands.
You'll be able to read about the kind of content which brands are posting and get some inspiration for your own social media posts. You're also more likely to take advantage of information like any networking events or award ceremonies which are popular at the moment, at least within your industry.
10. Use social media groups.
Join social media groups for digital branding that are relevant to your business. Often, these groups can be found on platforms like Facebook and Reddit. For instance, if your expertise lies in the field of digital marketing, you could share your insights in the field of marketing on these groups. Since these groups have been joined by people who are interested in brands like yours, it will be easier for you to reach out to your target audience through this method, in comparison to methods like paid promotions on social media platforms. Moreover, you can learn from the experiences of industry leaders and use the information to improve your knowledge in the field of marketing.
Summary
Now that you know the main ways through which your brand can be noticed online, you can start implementing them today and have a flawless digital branding strategy in place. You'll definitely start seeing some measurable results in terms of leads generated or more visibility on your website. Have you tried some of these digital branding strategies in the past? Let us know!
Contact us to work on your website.
- Mohita